St Lucia is a beautiful island with plenty of amazing accommodations at tourists' disposal. This destination offers an immersive escape from everyday life and is a fantastic place for vacation. When you really want to take a rest, nothing can quite beat all-inclusive hotels. With that said, today we are going to talk about the best St Lucia all inclusive resorts you can find on the island.
With all its striking mountains, sandy beaches, and banana plantations, St Lucia gained the reputation of one of the most beautiful islands in the Caribbean. It is a great location for escapists and tourists that really want to take a rest and soak in all the natural beauties that come with this breathtaking destination. We researched and found some amazing all-inclusive resorts you can stay at when visiting, so let us begin without further ado.
1. East Winds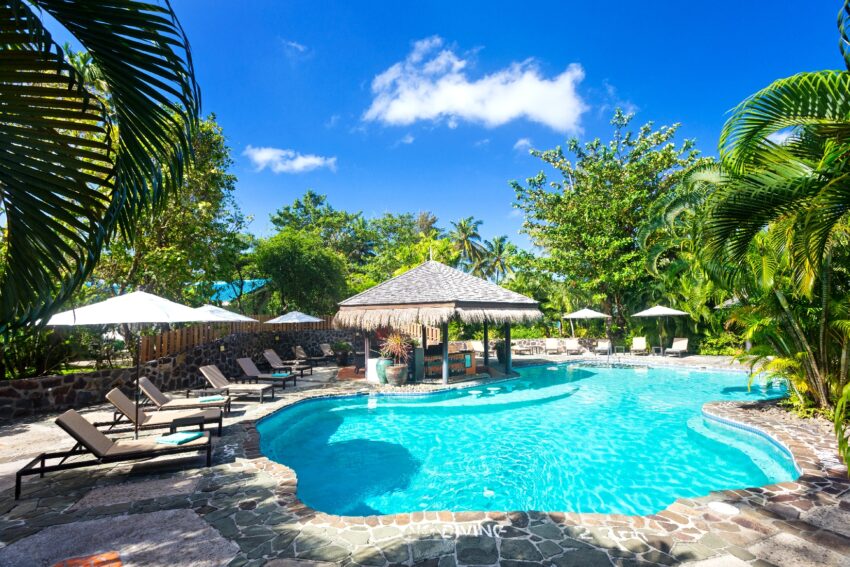 East Winds is a unique resort on the island for a variety of reasons, the most important one being that it does not try to compete with the mega all-inclusive hotels but instead offers a much more intimate experience without sacrificing luxurious amenities and high levels of comfort.
This resort offers 30 rooms in the upper-middle range, and it is a perfect place for guests that want to enjoy peace and quiet while being provided with top-notch service by friendly, resourceful, and helpful staff. Although East Winds lack amenities such as a gym and spa, the guest gets beautiful gardens and a laid-back vibe they would otherwise lack in more crowded accommodations.
The rooms are air-conditioned and cottage-style, and this type of setup enhances the feel of relaxation and escapism even further. There is a specific charm to East Winds resort, which you absolutely have to experience when visiting this lovely island.
2. Sandals Grande St. Lucian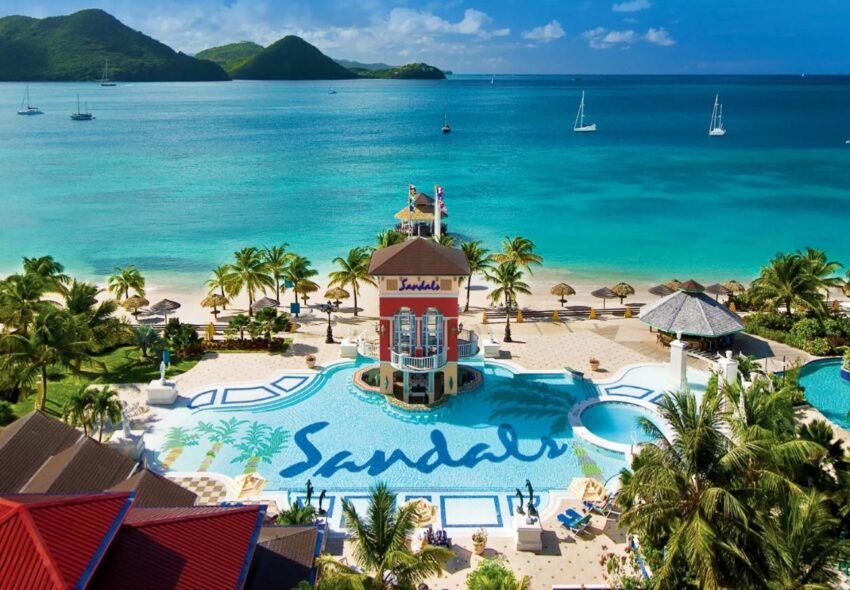 This beautiful over-the-water resort is a fantastic place to enjoy your vacation, and it is especially recommended as a honeymoon destination as it offers a wide set of amenities that newlyweds would definitely enjoy. There is free high-speed WiFi, a pool, a gym, free airport transportation, free parking, and much more.
This resort offers 311 beautifully furnished rooms and suites, and each and every one of them offers a stunning ocean view on both sides of the resort. There is a special charm to these accommodations, and the tropical elegance and seclusion are just some of the things you will be able to enjoy here.
Some of the rooms inside this fine establishment offer direct pool access from the patio, so the convenience is also on point. All rooms have air conditioning, an additional bathroom, private balconies, housekeeping, room service, minibars, refrigerators, and flat-screen TVs.
3. Sugar Beach, A Viceroy Resort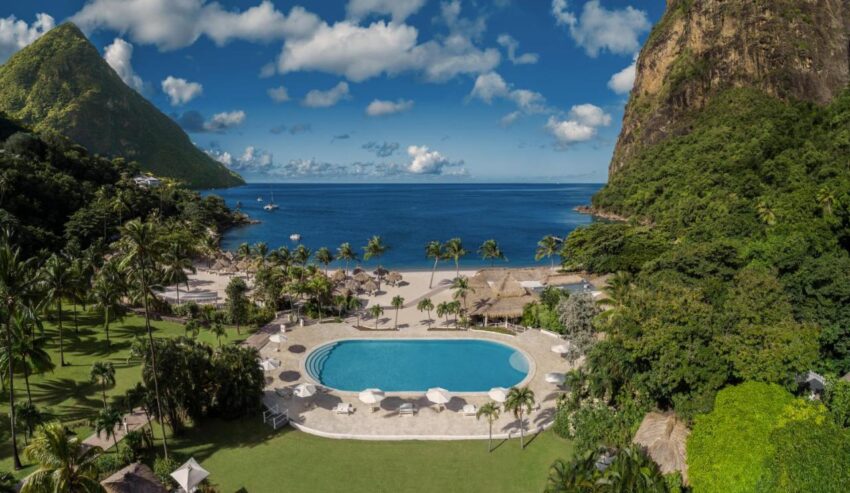 Sugar Beach, A Viceroy Resort, is located on more than 100 acres of tropical rainforest, which provides a special feeling of seclusion and peace, especially when you add the fact that everything is seated on the island's scenic Caribbean coast. Sugar Beach is definitely one of the cornerstones of the island's tourism, and this resort is yet another proof of that.
Surrounded by beautiful Pitons, this resort offers 96 luxury rooms, cottages, villas, and beachfront bungalows. Each of these accommodations sports elegant styling, a private plunge pool, comfy beds, luxurious Egyptian cotton linens, and every possible modern amenity you can think of.
You will get access to two beautiful white-sand beaches, a rainforest spa with treehouse treatment rooms, and a dive facility, and when you get hungry, a dining area that offers a wide variety of delicious dishes. A Viceroy Resort provides the ultimate comfort for its visitors, and it is certainly one of the resorts you should definitely consider staying in when visiting St. Lucia.
4. Stolen Time by Rendezvous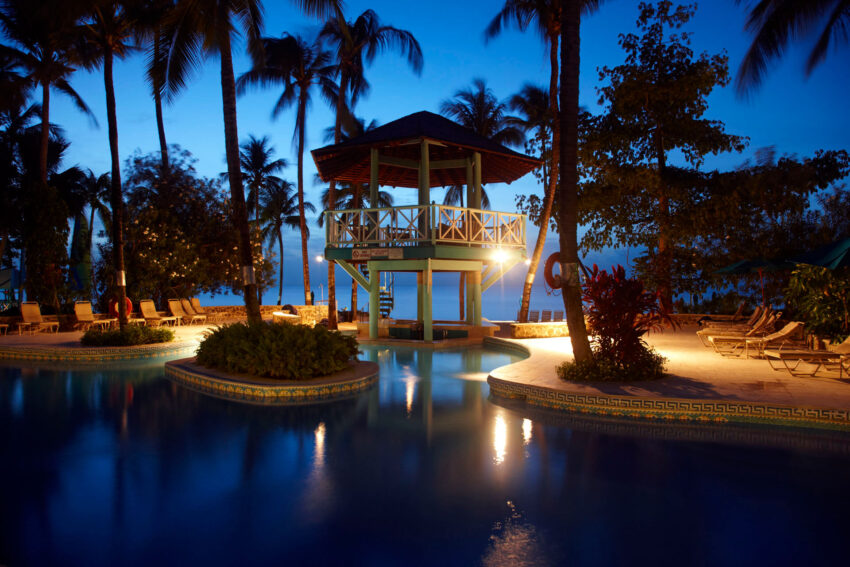 This resort is housed on two miles of sand, and acres of exotic tropical gardens provide that special charm to the place that every tourist looking for escapism is after. As far as the property amenities go, you will get free parking, a pool, free breakfast, free WiFi, access to the beach, airport transportation, fitness center access, and much more.
When you are looking for the best hotel in St. Lucia that provides the ultimate retreat, Stolen Time by Rendezvous is a place to have in mind. There are long stretches of deserted beach you can enjoy, as well as a lazy river pool that goes through quiet nooks and secret hideaways.
This is a resort that is mostly recommended for adult visitors, as it provides plenty of space for them to retreat and have time for themselves. Every aspect of this resort provides superb comfort and escapism, so consider staying here next time you go on vacation in the Caribbean.
5. Coco Palm Resort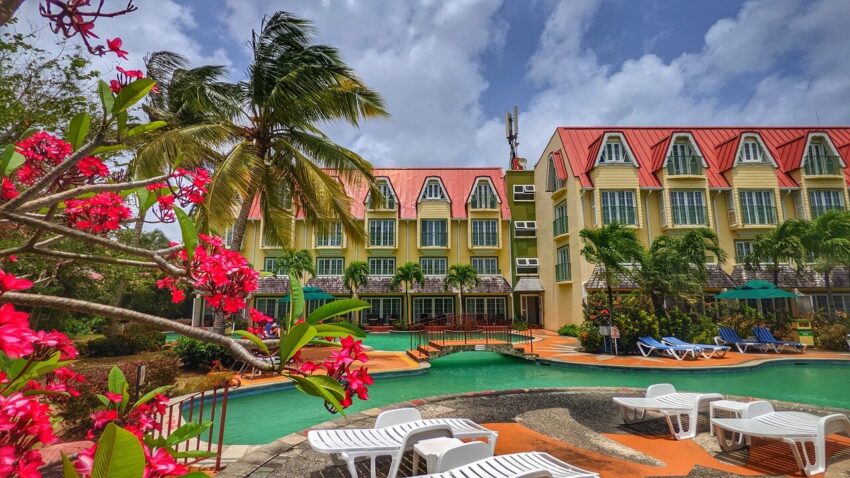 Coco Palm is one of the best all-inclusive resorts you can opt for on St Lucia island. It is an award-winning boutique hotel with unique French Creole decor and a wide variety of modern amenities that offer everything you would require on your vacation regardless of your needs or age.
This location is a perfect place to experience Saint Lucian hospitality at its best, as this is a family-owned and managed hotel, and every member of the staff is there to cater to every need each visitor has. Rooms are absolutely gorgeous and offer amenities such as blackout curtains, air conditioning, additional bathrooms, walk-in showers, sofa beds, and much more.
You can pick between suites, swim-up rooms, and patio rooms, and each and every one offers scenic views that you will memorize forever. Another thing that stands out when talking about Coco Palm Resort is the food. You will be able to experience some of the finest dishes from both local and international meals, which will help you fall in love with the atmosphere even more.
6. Calabash Cove Resort and Spa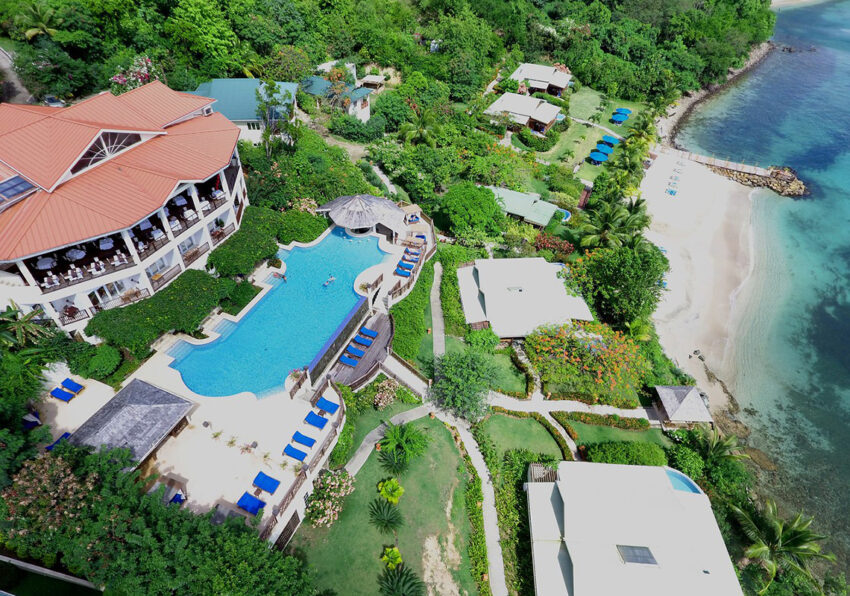 This resort is located in the bay of Bonaire Estate, which shelters it and provides a great feeling of seclusion and coziness. It is a boutique luxury resort that proud itself on a full-service and beautiful location on a hillside sloping gently towards the Caribbean Sea, which adds a specific charm to the place.
This place is lush with the vibrant green of tropical vegetation that provides a highly exotic and relaxing feeling. You also get a view of Walcott Island, and a private beach and coral reef grant you an exceptional place to rest, sit back, and enjoy the vacation without a care in the world.
There are peaceful and tranquil gardens that are under the care of one of the best landscape architects in the whole Caribbean. He created these gardens to capture the natural beauties of the area and did a fantastic job at doing so, as countless visitors of this resort praise the vibrancy and the beauty of this lovely creation.
7. Bay Gardens Beach Resort & Spa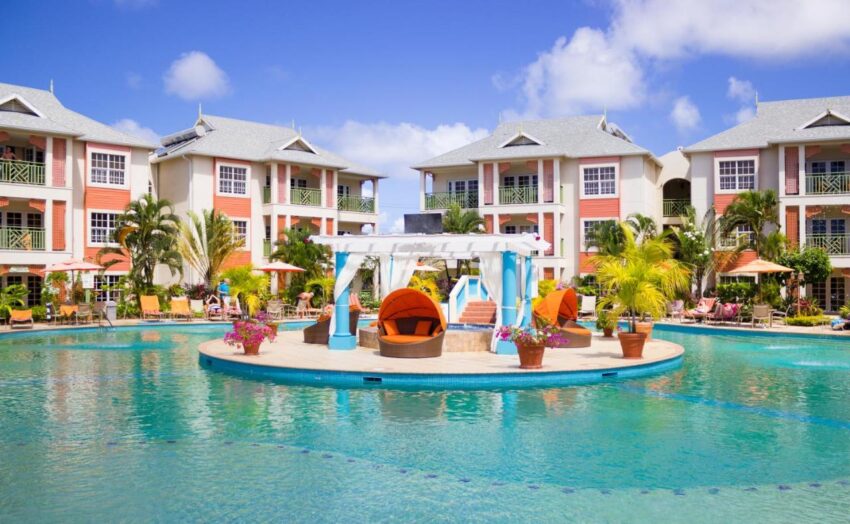 Bay Gardens Beach Resort & Spa is an all-inclusive hotel famous for its magnificent views and a fantastic sense of escapism upon arrival. You will get to experience true adventure, relaxation, and refreshment in this resort, as it offers a wide variety of amenities that are in place to suit every need you might have.
The one thing that is often mentioned and praised among this hotel's visitors (aside from superb escapism) is the on-site dining at Hi-Tide restaurant and Sea Grapes Beach Bar & Restaurant. You can also stay active at the hotel's fitness center or take a swim in the swimming pool. If that is not part of your vibe, you can always take a relaxation session at the jacuzzi.
Mixing business and pleasure at these facilities is super-easy, as you get access to a business center and well-equipped meeting rooms and venues, which is a nice little touch for visitors that are just taking a break from their business tours. If you want to plan a wedding here, you will be able to take full advantage of the elegant wedding gazebo and arch. Bay Gardens offer a relaxing experience, and investing in a trip here is very much worth it.
8. The Landings Resort and Spa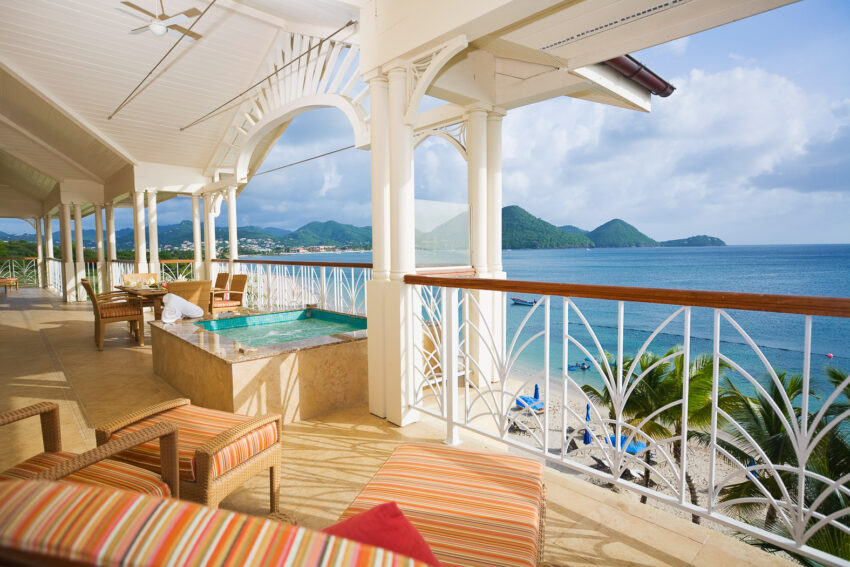 The Landing Resort and Spa is one of the premier beach locations on St. Lucia island that offers luxurious amenities and all-inclusive service. You have a choice to pick between one, two, and three-bedroom suites that offer the ultimate comfort, luxury, and relaxation necessary for the best possible experience throughout your vacation.
As far as the accommodations go, the visitors get full designer kitchens, state-of-the-art amenities, and private terraces, while some rooms offer personal plunge pools. You also have plenty of options in terms of beachfront dining and bars, an upscale restaurant experience, and a wide variety of complimentary non-motorized water activities.
If you prefer to stay fit during your vacation, you can visit the fitness center that is available within the premises. You can also consult the hotel's concierge if you want to arrange hiking the rainforest, volcano tours, or snorkeling cruises. There are plenty of entertaining possibilities waiting for you, so if you want a premium vacation experience, this resort is a worthy consideration.
9. Hideaway at Royalton Saint Lucia, an Autograph Collection All-Inclusive Resort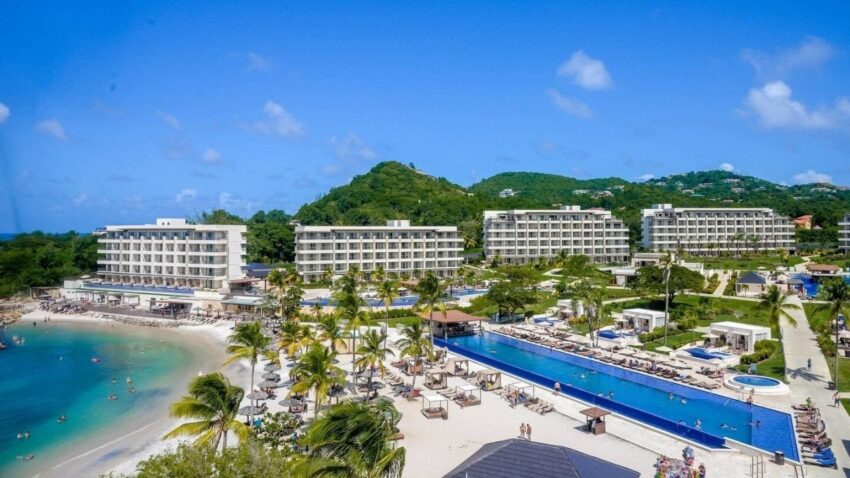 This resort is a fantastic staying option for everyone visiting Cap Estate, as it offers a wide variety of helpful amenities and a luxury environment that can only enhance your staying experience. The location is also fantastic, and each room inside the hotel provides scenic views that you will hold in your memory for a very long time.
Each room within the resort offers flatscreen TV, a minibar, and air conditioning, and you will also be able to stay in touch with your friends and relatives as you also get a complimentary high-speed WiFi internet connection. The hotel also offers room service and a concierge. You also get a pool and free breakfast, and for guests that are traveling by car, there is also free parking.
When you get hungry, make sure to check out The Naked Fisherman Bar and Grill, which is one of the best seafood restaurants on the whole island. The dishes are fresh and tasty and prepared by master chefs that made their careers in preparing premium seafood. Overall, it is a fantastic resort that offers all-inclusive services and is a great place to sit back, relax, and enjoy your vacation in style.
10. Sandals Regency La Toc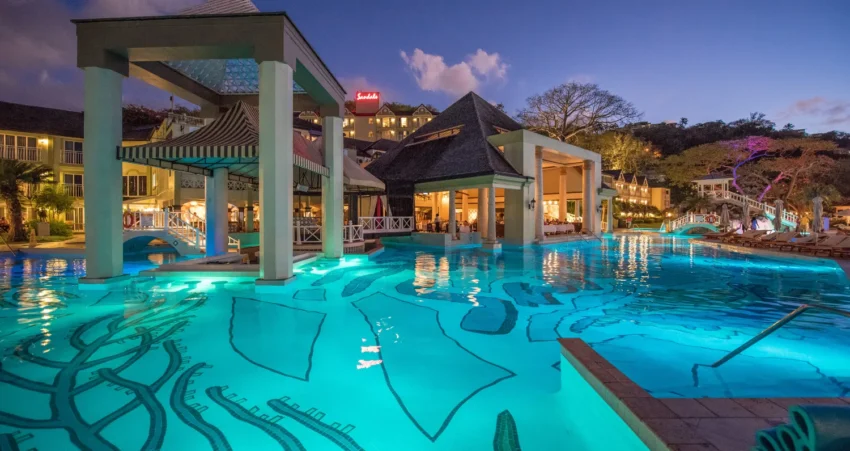 Sandals Regency La Toc is one of three Sandals hotels on St. Lucia island, and it is famous for the quality of service, luxurious amenities, and renowned hospitality you would expect when paying for an all-inclusive service. Each room features 180-degree scenic views, plasma TVs, a private Whirlpool and Infinity pool, and fully opened glass walls that provide a sense of freedom and relaxation.
The heightened elevation of this resort provides jaw-dropping views for all the guests and a feeling that many visitors describe as a "resort within a resort." The guests are also provided with a 24-hour room service, and everything regarding the amenities screams elite and luxurious.
There are also three magnificent freshwater pools and four whirlpools, which is a nice touch. All rooms also come with safes to stash important documents and goods you are carrying with you and private balconies to sit back, relax, and enjoy the beautiful view on this exotic island.
11. Sandals Halcyon Beach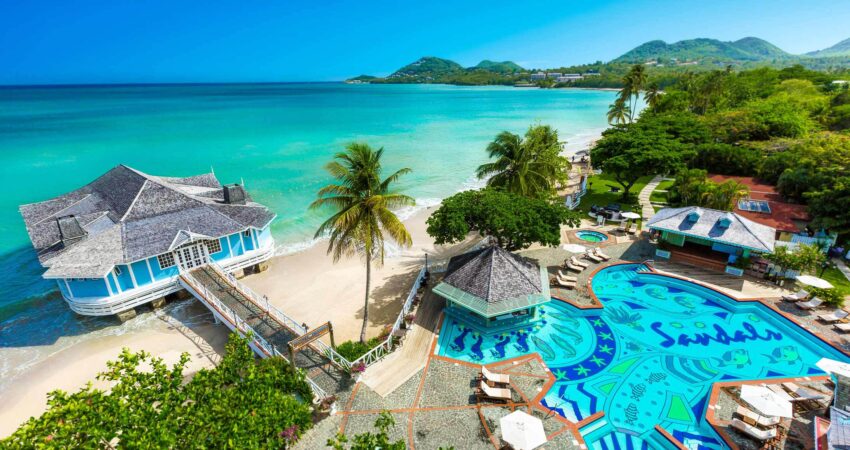 Sandals Halcyon Beach is the third and the last hotel in this chain on St. Lucia island. It is a very special resort that offers various cool amenities and is also highly famous for being friendly to physically challenged visitors with low-rise architecture. All rooms are air-conditioned and offer private balconies, minibars, flatscreen TVs, safes, refrigerators, housekeeping, and, of course, room service.
This is also a fantastic hotel for gourmet guests, as they will get a chance to dine in a Caribbean cuisine restaurant on its own 150 feet pier over the Caribbean Sea that offers a unique and pleasant atmosphere that is highly praised by countless visitors who enjoyed it over the course of years.
There are also free shuttles to Sandals La Toc Golf Resort & Spa and Sandals Grande St. Lucian Spa & Beach Resort we mentioned previously. Whether you want to hike, dive, or simply sit back and relax while enjoying the beautiful ocean view, Sandals Halcyon Beach is a great place to experience such activities.
Reasons to Visit St. Lucia
Aside from the luxurious accommodations the hotels on this beautiful island offer, there are plenty of reasons to consider this as a go-to destination for your next vacation. In the section below, we have listed some of the reasons why you should start thinking about booking a flight as soon as possible.
1. Spectacular Beaches and Snorkeling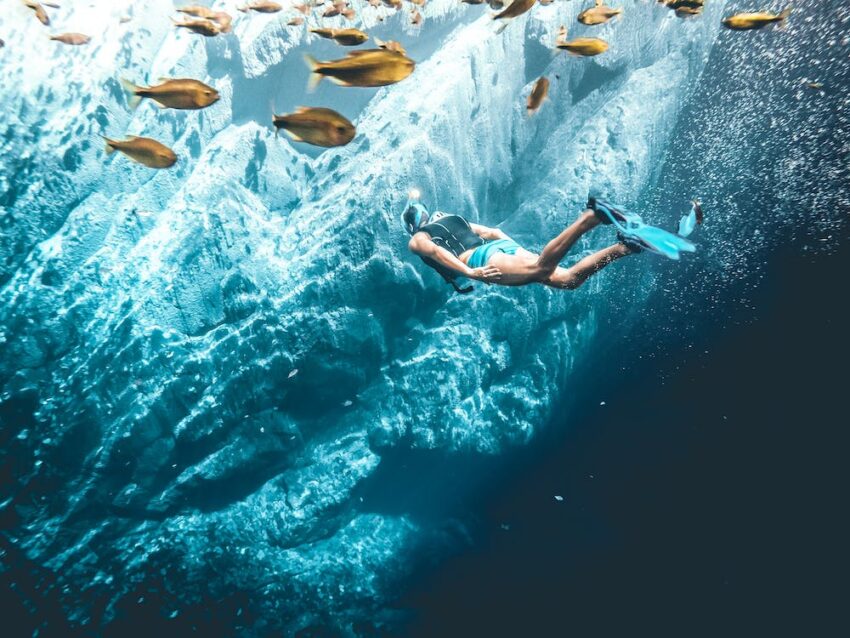 St. Lucia is an island that is widely famous for having some of the finest beaches in the Caribbean. There are plenty of hotels that provide you with access to the best beaches on the island and offer a chance to get a glance at the spectacular Pitons St. Lucia has to offer.
If you are a snorkeling fan, you will be absolutely thrilled with the opportunities this island provides. In these waters, you can spot beautiful corals, colorful parrotfish, and sea urchins, and the luckiest swimmers might even get a chance to see one of the island's endangered sea turtles.
2. Gourmets Can Dine on Fantastic West Indian Cuisine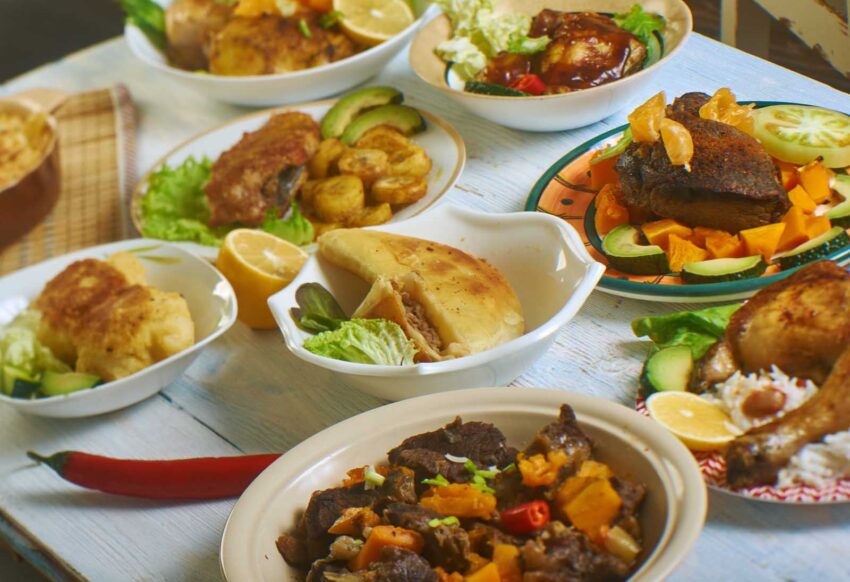 West Indian cuisine is an interesting mixture of Caribbean, European, American, and Indian flavors that blend in a fantastic way, and the end result is some of the finest dishes you have ever tasted. There is no better way to experience these dishes than on St. Lucia island, where you can eat the meals created by some of the finest chefs.
3. Explore UNESCO World Heritage Site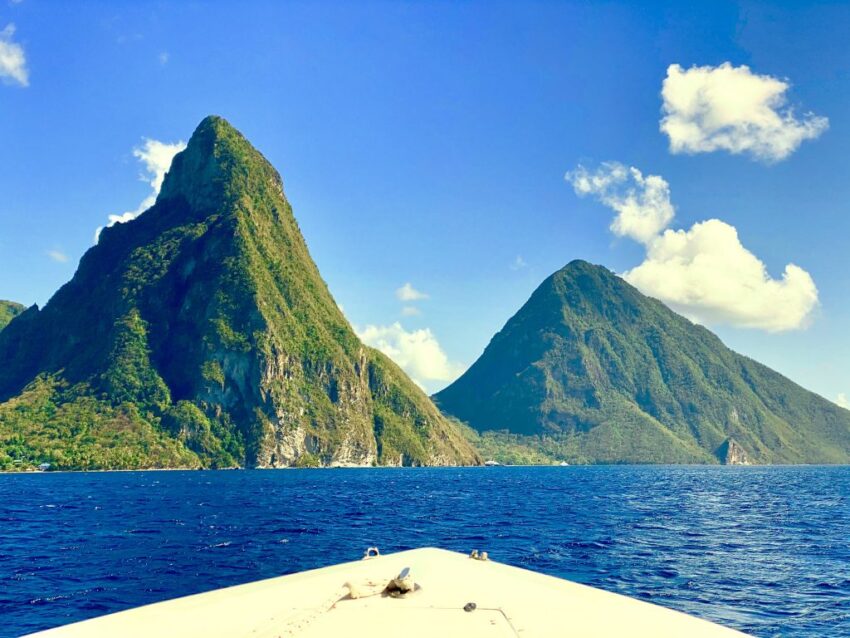 The natural beauties of St. Lucia island are vast and diverse, and at moments, you will feel like you are in a fairy tale, especially when visiting the Pitons. These pointy peaks are covered with lush rainforests, and from there, you will be able to get a beautiful scenic view of the southwestern coast of the island.
The more adventurous visitors have an opportunity to hike around the peaks and even climb Petit Piton, which is the lower mountain peak. For the visitors that are more about taking a rest and relaxing, the tours in which they can sail around the island are also available, and they will get an equally beautiful experience.
4. Chocolate Tourism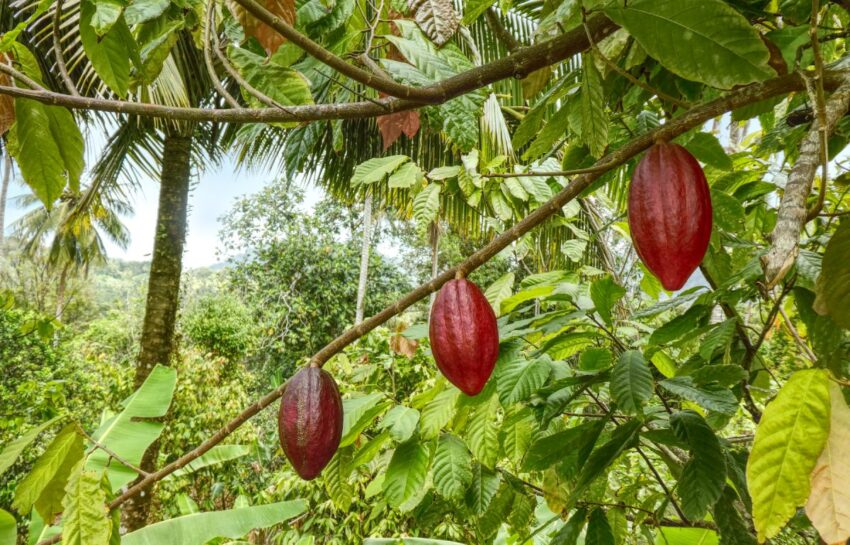 Chocolate enthusiasts are in for a special treat on this island, as the climate and the environment make St. Lucia one of the most potent places to grow cacao trees. As such, the island became one of the major producers of cocoa and a famous chocolate tourism destination.
Final Words
The opportunities to enjoy the beauties of St. Lucia island are plentiful and vast, and the thing that can enhance this experience even further is finding a perfect all-inclusive resort that will allow you to forget about all worries and just sit back, relax, and enjoy the scenery.
Keep in mind our picks when visiting this beautiful Caribbean island, and we guarantee you will not be disappointed. If you want to find out more about the best hotels in St. Lucia, make sure to revisit our website, as we regularly update content to keep our readers in the loop about the finest accommodations where they can spend their vacation trips completely carefree.