Whenever tourism and travel enthusiasts hear about St Lucia, they immediately think of the astonishing landscapes and glamorous accommodations this island offers. There is a lot to enjoy and indulge in on this island, but where to stay when visiting? In this article, we are going to list some of the best hotels in St Lucia and go in-depth about what they offer for their visitors.
St Lucia is jam-packed with beautiful hotels and is a perfect getaway for someone that enjoys luxurious accommodations. It is an island famous for its dramatic peaks and volcanic beaches. There is so much to see and enjoy in St Lucia. Whether you want to relax on the beach, hike, or simply lounge in a private pool, there are plenty of options for you. We researched and found some great hotels to stay in, so let us begin listing them without any delay.
1. Coconut Bay Beach Resort & Spa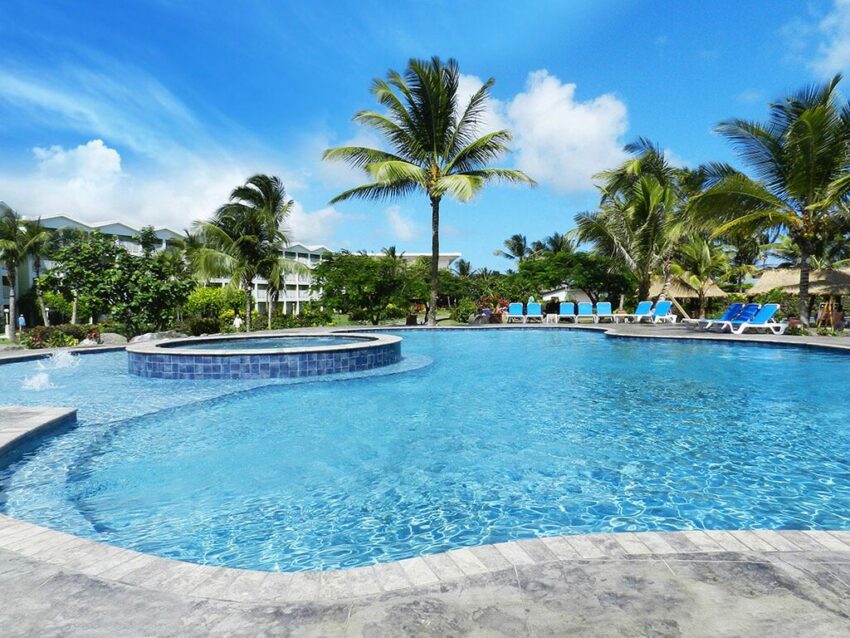 When it comes to the convenience of the location, the beauty of the setting, and the proximity to the island's main attractions, Coconut Bay Beach Resort & Spa is definitely one of the best hotels to go for. The hotel is situated on 85 acres of land, and it rests along St Lucia's exotic south coast.
It is the hotel that is located closest to the international airport and some of the most entertaining and attractive places on the island. This is an all-inclusive resort that has in its offers 250 air-conditioned rooms, free WiFi (which is usually courtesy of LIME telecommunication provider), a beach grill, seven bars, a swim-up pool bar, five pools, a fitness center, and much more. When you get hungry, there are eight fantastic restaurants offering tasty and fresh dishes.
This is a hotel that is designed to please visitors of all ages, and it offers everything that couples, singles, or families would require. There are also honeymoon and wedding suites, so there is plenty that Coconut Bay Beach Resort & Spa can provide to each and every visitor.
2. Ladera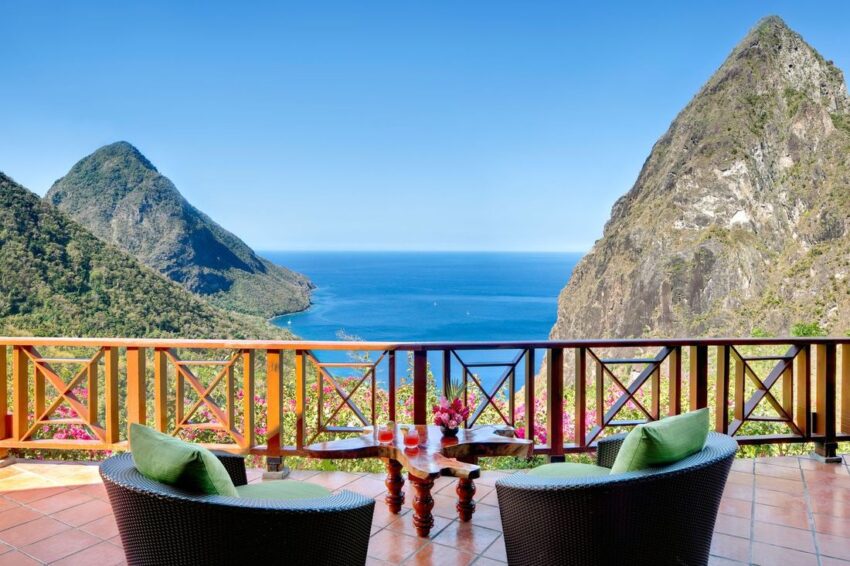 There is so much charm and luxury in Ladera that it is considered one of the most popular hotels on the island, which is packed with attractive places to stay. You can enjoy hours and hours in Ladera's beautifully crafted wooden suites, and everything about this location is suited for adults and romantic souls.
Even though this hotel is not on the beach, you will have a shuttle to Sugar Beach three times during the day. Instead of a beach, you are located on a volcano ridgeline that is a thousand feet above the Caribbean Sea, and this location offers front-row seats to absolutely breathtaking views.
The rooms are unique in this resort as they are all built from locally harvested hardwood, stone, and terracotta. All of the rooms have the fourth wall missing, which is very special as this setup offers visitors a beautiful and romantic view. However, the fact that one wall is open does not compromise privacy, and you will be able to cozily enjoy everything that these accommodations have to offer.
3. Sugar Beach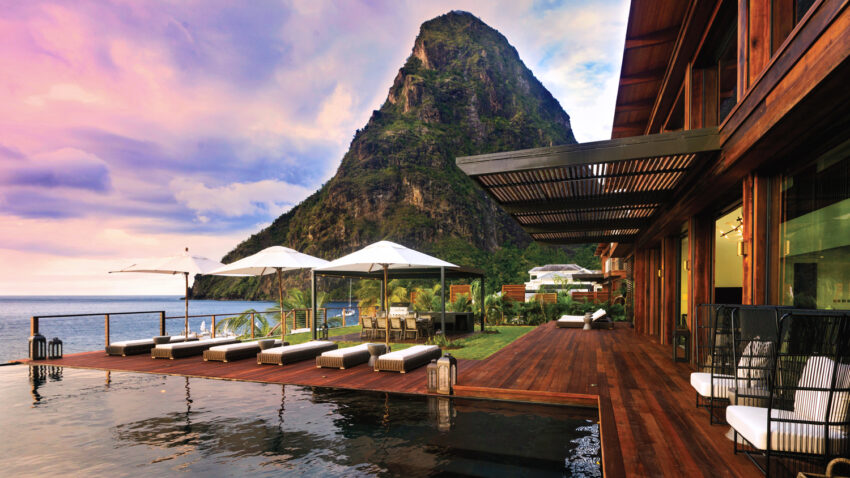 Located between St Lucia's Pitons, this luxurious resort occupies one of the most beautiful spots, which many argue is the prettiest in the whole Caribbean. With its stylish interiors and luxurious accommodations, this is by far one of the best hotels you can stay in when enjoying the beauties of St Lucia island.
Sugar Beach Soufriere is situated on 100-plus acres of land of exotic white sand. The style of this hotel varies from pared-down luxury to grand colonial living in the original plantation building. It is a place where you can truly rest and recharge batteries whenever you decide to visit.
Wherever you stay on this beautiful property, you get a team of butlers that look after everything you can wish for. The facilities feature a vast swimming pool, spa, tennis courts, beach volleyball courts, and much more. You can reserve one of 96 elegantly designed bedrooms, cottages, or villas. It is a family-friendly resort that is suitable for visitors of all ages and the one that you should definitely consider when visiting this beautiful island.
4. Anse Chastanet Resort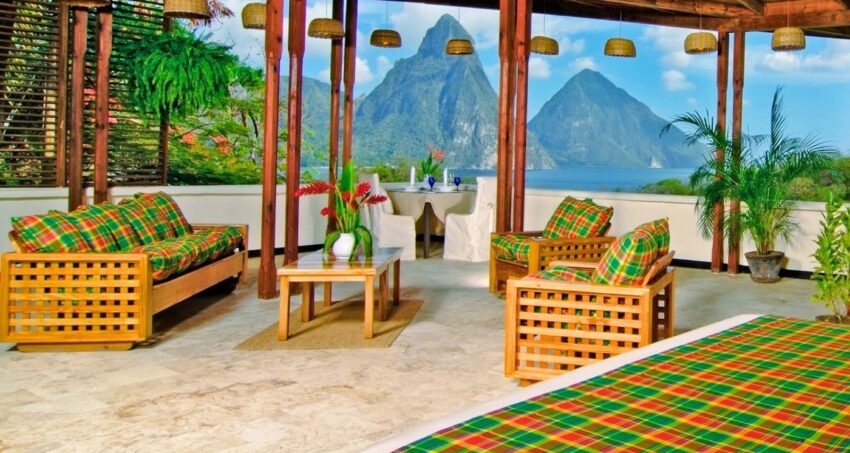 If you are an escapist, romantic, or diver, Anse Chastanet Resort is one of the best hotels to stay in on the whole island. Same as is with the Ladera hotel, the fourth wall in this hotel's rooms is missing, providing its visitors a romantic and beautiful view of majestic Pitons, which is something you will certainly keep in your memories for a very long time.
The hotel rests on 600 acres of land in southwest St Lucia, and it is set around and above grey-sand Anse Chastanet beach. The location of this resort is one of the best on the island, and it also offers a water taxi service to the town, which is pretty convenient. Where these beautiful accommodations really shine is their natural surroundings, which provide an exceptional feel of escapism that is more and more in demand.
There is a total of 49 individual bedrooms that are available in a variety of styles and prices, and common to all of them is the absence of a television and radio. The general idea behind this is to enhance the vibe of the nature surrounding the hotel and help guests commune with it.
5. Jade Mountain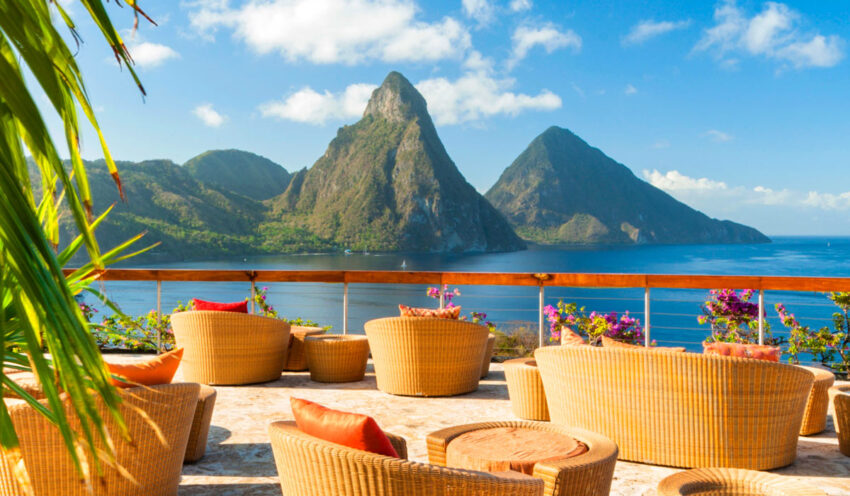 Even though Jade Mountain is one of the higher-priced hotels to stay in on the whole island, the accommodations, luxury, and beauty you get in return are absolutely worth every penny you will pay. The hotel promises hilltop seclusion, and its vast suites provide some of the most astonishing views you will ever see.
The hotel is located high up on the hillside within the jungly 600-acre Anse Chastanet estate in southwest of the island. At the bottom of this beautiful estate lies a breathtaking grey-sand beach, to which you can walk down in about 10 minutes, while Anse Chastanet restaurant bars are also in close proximity.
Jade Mountain offers 29 beautiful suites, and each of them is very spacious, luxurious, and comfortable. Every room offers stunning views of Piton through a missing fourth wall that provides a spectacular feel of relaxation. All rooms are purposely technology-lite, with no televisions or radios, with only WiFi available to provide you with an even better feel of escapism.
6. Royalton Saint Lucia Resort & Spa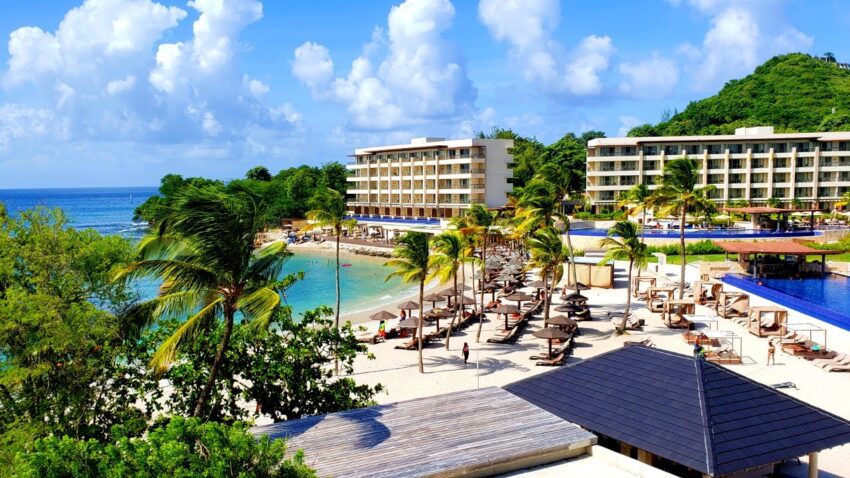 Slick suites and beautiful views are just some of the beautiful accommodations Royalton Saint Lucia Resort & Spa brings to the table, and it is also considered one of the more affordable hotels on the island, so accessibility is yet another great thing visitors can enjoy.
Aside from all of this, you will also get to enjoy one of the island's largest spas as well as butler service that is there to see to your every need. The hotel is a 90-minute drive away from Cap Estate in the island's northern area. You are also a 20-minute drive away from Gros Islet, which is the home of the popular Friday night street party.
You can choose from 456 suites in multi-store buildings, and even entry-level luxury junior suites offer exceptional levels of comfort and style. There are minibars, coffee machines, and 24-hour room service, while the bathrooms are open to the rest of the room, and signature whirlpool tubs are located at the center of the suites.
7. Cap Maison

Cap Maison is one of the classiest hotels in the northern part of the island, and it is also highly favored by gourmet visitors, as it offers plenty of dish options to go for. One of the biggest selling points for this hotel is its hilltop location, while the beach is also very close, just minutes away from the accommodations.
The views from Cap Maison, especially from the Cliff at Cap restaurant, are absolutely astonishing. Although this hotel does not have direct access to its own beach, you will only have to take a walk through a door at the side of a property and stroll down to Smugglers Cove, a beautiful 75-meter-wide beach.
This is a locally owned property, so you are sure to get an amazing staying experience and feel right at home from the moment you enter the facilities. You will be able to enjoy the smart and compact spa and gym, two swimming pools, and some complimentary water sports equipment such as kayas, bodyboards, snorkels, etc.
8. Marigot Bay Resort & Marina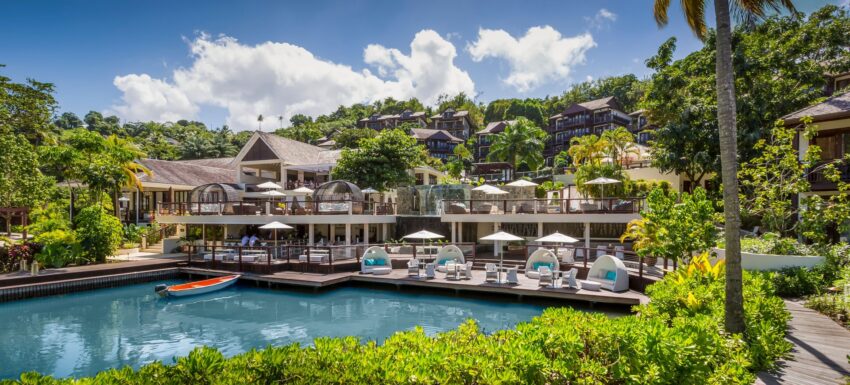 This resort is one of the most attractive hotels for yachters and yacht-watchers, and everyone who looks for a sophisticated place to take a break from everyday routines and relax. All accommodations are truly top-of-the-line and provide the utmost luxury that comes for more than a decent price considering everything that you are getting for it.
Even though this hotel is not on the beach, it is right on the water's edge of the beautiful marina at Marigot Bay. This bay is located on the western side of the island, and it is well known as a "hurricane hole" among the local population. It is surrounded by mountains, providing an excellent shelter for yachts and boats.
The staff in the hotel is highly knowledgeable and friendly and will see that all your needs are satisfied. You can pick between two pools inside the facility, where every hour between noon and 4 pm, you will get a special treat to your lounger if you are stationed by the pool. You will also be able to enjoy a bar, fitness center, room service, complimentary WiFi, steam room, restaurant, and many other pleasantries.
9. Tet Rouge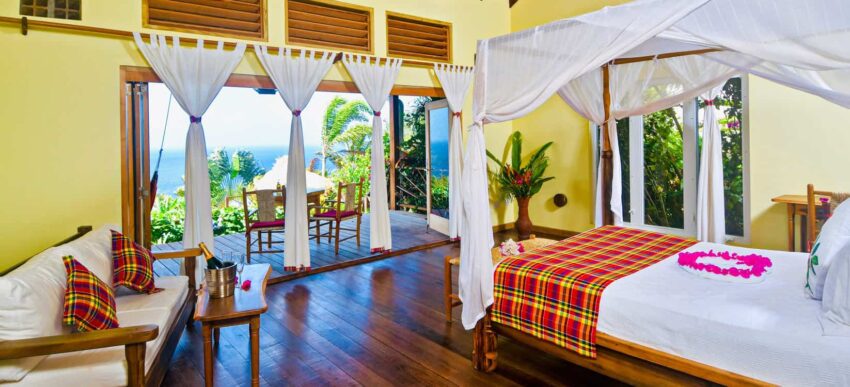 This beautiful resort is located on a hillside above Choiseul on the beautiful west coast of St Lucia island. It is a fantastic place to enjoy homemade Creole cuisine or take a hike up Gros Piton, which is an amazing experience for all the visitors to the island. Another great thing is that some of the finest west coast attractions are easily accessible from this location, so you will have plenty of entertaining options to spend your time on.
The local Anse L'Ivrogne beach is also in close proximity to Tet Rouge, and you will need about a 20-minute walk from a hotel to get there, and considering the natural beauties of the area, this walk will be a breeze as you will not be able to take your eyes from jaw-dropping landscapes.
Each of the six wooden studios that are available is unique in its own way. One offers green hardwood floors with mahogany furniture, while the other features purpleheart floors and blue mahoe furniture, so it is a pick-your-poison situation for this facility. Every studio has lofty ceilings, kitchenettes, and terraces with stunning views that will stay in your memory long after you leave the island.
10. St. James's Club Morgan Bay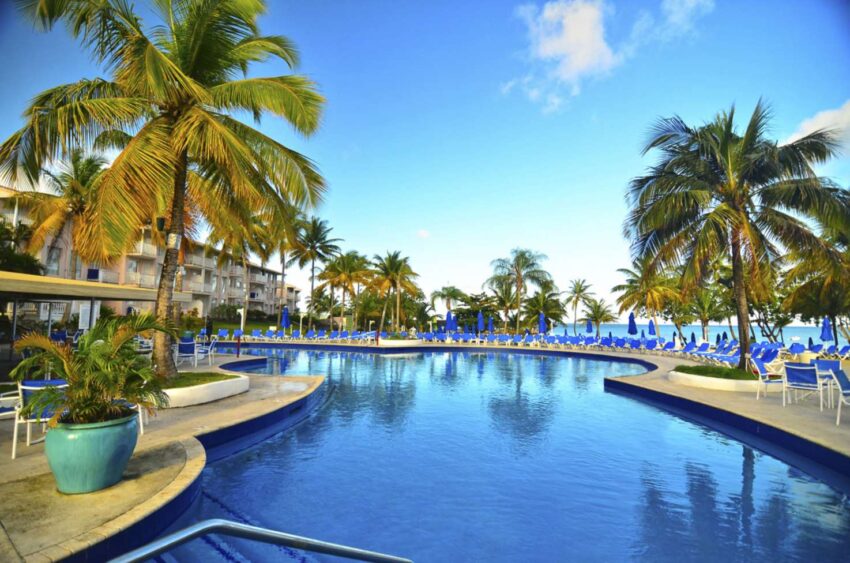 This affordable all-inclusive resort is one of the more affordable options on St Lucia island. However, the price absolutely does not compromise on the quality of staff, service, accommodations, or overall experience you will have when visiting the island and enjoying all the beauties it brings to the table.
In St. James's Club Morgan Bay, you can book yourself a tennis lesson, enjoy cuisine from one of the themed restaurants, indulge in a massage, or simply sip cocktails on your lounger and enjoy the natural landscapes of the island. The accommodations are suitable for singles, couples, and families of all ages.
All rooms have either balcony or a terrace, and each of them offers impressive views of the sea. The decor is pretty universal, with dark wood furniture and tiled floors. Minibars are not part of the all-inclusive service, and even though the rooms can be quite far from the main areas, buggies take you about, so it is a minor drawback.
11. Rabot Hotel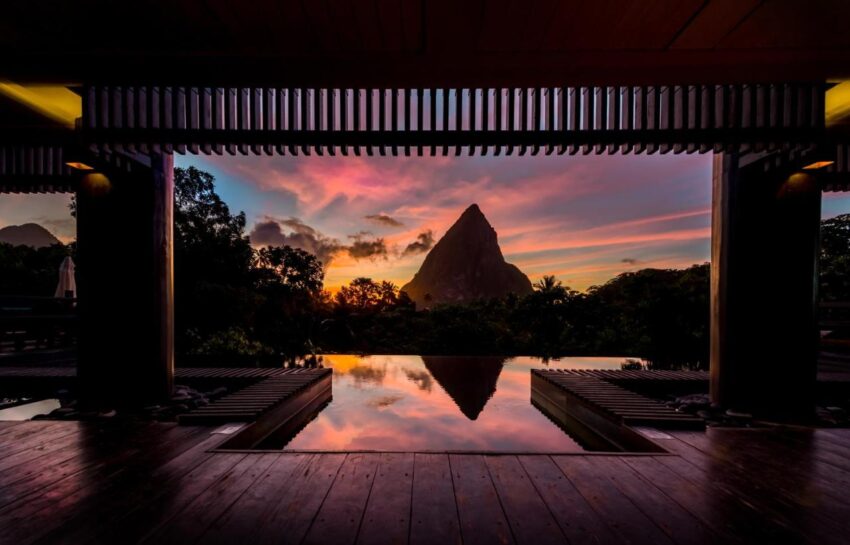 Rabot Hotel is housed on a historic cocoa-growing plantation, which is one of the main reasons it offers imaginative "cacao cuisine" in its restaurant, and we advise you to try this if you ever decide to visit St Lucia island. This restaurant and some bedrooms inside the facility offer fantastic views of the Petit Piton, which you should definitely experience.
This is a place where you can get a full Caribbean experience and feel right at home with some extra comfort and relaxation. When you decide to spend a day on the beach, there is a complimentary shuttle available twice a day that will lead you to the white sands of Anse des Pitons at the luxury Sugar Beach we have mentioned already.
The fourteen rooms inside this resort offer a modern and comfortable experience with white wooden walls, brown boarded floors, dark wood furniture, and arty prints. There are also cheaper rooms, or "The Lodges," that have no outdoor area, so we strongly recommend saving up some extra cash and trying out Luxe Lodges.
12. Serenity at Coconut Bay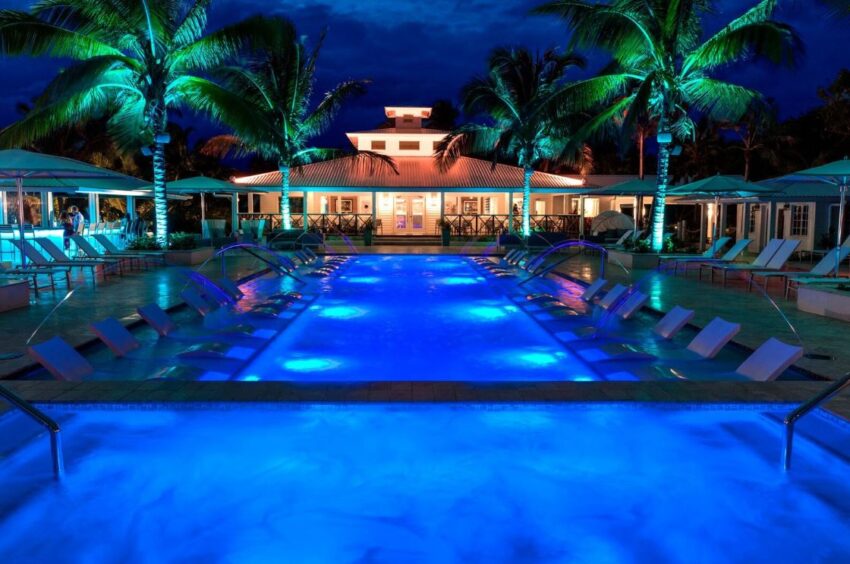 Serenity at Coconut Bay is a unique hotel in a way that it is an adult-only, all-inclusive resort that countless visitors enjoy every year. It is located conveniently as it is the only luxurious hotel within an hour from the airport, meaning that you will start swimming in your private pool quickly after you land on the island.
The hotel is part of an 85-acre beachfront estate, and to see the island's iconic volcanic peaks and the Pitons, you will only require a 15-minute drive to the village of Laborie. The vibe of this hotel is very tranquil, with no children or loud music that would otherwise disturb your vacation and peace.
All 36 suites are decorated in a pallet of calming colors and mahogany furniture that provide a calm vibe to the interior. The accommodations include amenities such as pod coffeemakers, tea service, satellite TV, a pillow menu, and much more. It is also important to mention that the two highest category suits also offer outdoor showers and a gazebo for dining, so saving some extra cash to afford will certainly be worthwhile.
Final Words
It seems like there are no limits in terms of the charm, calmness, and beauty of St Lucia island. From natural beauties to local architecture and attractions, there is so much to see and experience that you would probably never want to leave the place.
When dropping by here for your vacation trip, make sure to consider the hotels we have listed for your stay, and we guarantee that you will be more than satisfied with the accommodations and the comfort all of them bring to the table.