The Caribbean is one of the best places to visit when traveling in relatively close proximity to the continental United States. Moreover, if you are looking for a perfect getaway, St. Lucia is the island to visit. It is a location where you can truly relax and enjoy everything the Caribbean has to offer. Accommodations-wise, your stay will be complete when you opt for Sugar Beach St Lucia.
This is a beautiful resort surrounded by the Pitons that features luxurious amenities and such a cozy and relaxing atmosphere; checking out would be one of the most difficult things you have to do when the time comes.
In today's article, we will take a peek at this fantastic establishment and present some of the finest amenities and goods Sugar Beach St. Lucia Resort has to offer. We will also touch on some fun activities you can participate in while staying here. There is a lot to cover, so let us begin.
Impressions Upon Arrival
When you arrive at the premises of Sugar Beach Resort, you instantly start figuring out what all the fuss is about. There are multiple options to go for, and whether it is a beachfront bungalow, and tranquil villa, or a luxury cottage in the mountains, this facility will take care of your needs.
This is a place with a fantastic resort that mixes modern and historical aesthetics in a tasteful manner, and when it comes to accommodations, there is hardly anything you can think of it does not possess. If you want to get the full Sugar Beach experience, it would be best if you could get a suite with a private patio and your own plunge pool.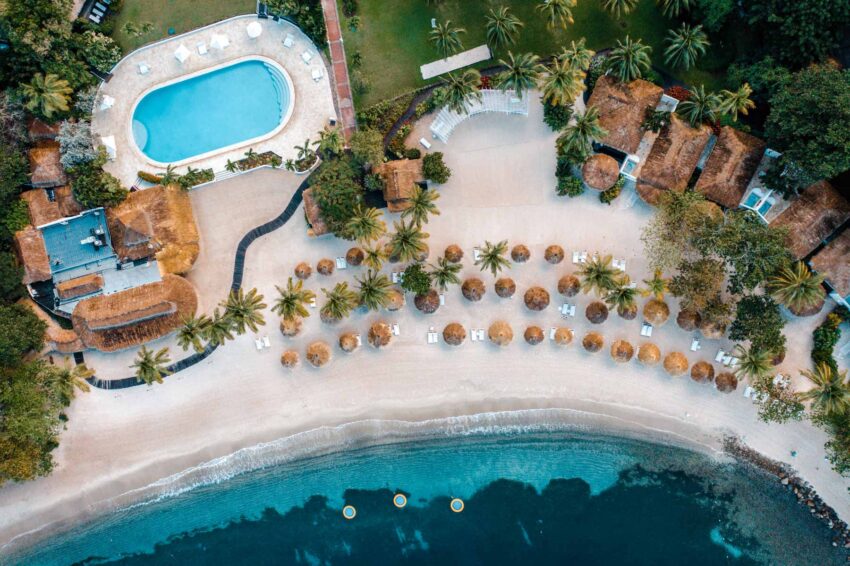 Once you enter your room, you will be greeted and welcomed by your personal butler, and you will be provided with special ingredients for your St Lucia cocktail. You also get access to the phone at the front desk any time you want to use it while inside the premises of the hotel.
When you venture outside the resort and get to meet some of the locals, you will find that they are genuinely very kind and helpful to tourists. They also speak Creole, so there is an off-chance you might communicate with them and break the English language barrier.
Overview
Settled between St Lucia's famous UNESCO-protected Pitons, this resort is one of the finest and most luxurious places to spend your vacation. Throughout your stay, you will be provided with the highest levels of luxury and personalized butler service that is there to see to your every need.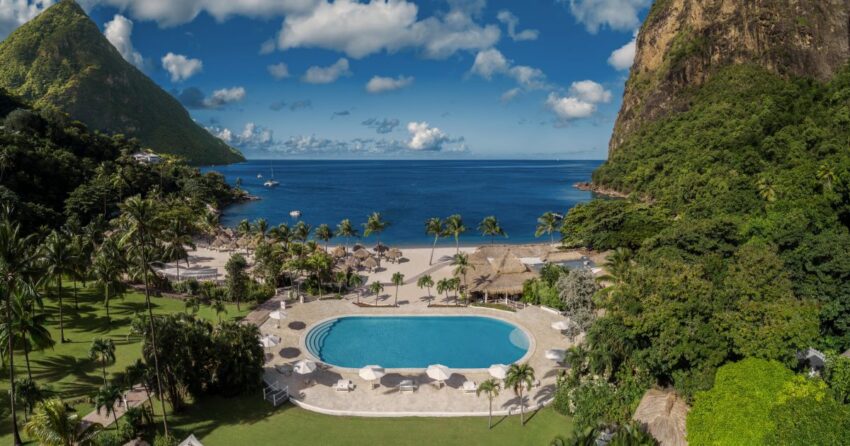 Aside from offering luxurious accommodations and service, there are also opportunities for various excursions and activities this resort provides. From hiking to taking a relaxing mud bath or simply chilling near the resort's pool or beach, there is plenty to do and enjoy here.
In the sections below, we will break down some of the most exciting activities you can participate in while staying at Sugar Beach St. Lucia Resort, as well as highlight some of the finest features of the hotel.
Sugar Beach St. Lucia Resort's Highlight Features
This resort is definitely one of the finest establishments a tourist can want for. It is a place where you can truly feel the hospitality and the spirit of the Caribbean while enjoying plenty of activities and excursions. Here are some highlights of this resort and the reasons why you should consider it when visiting St. Lucia island.
1. Style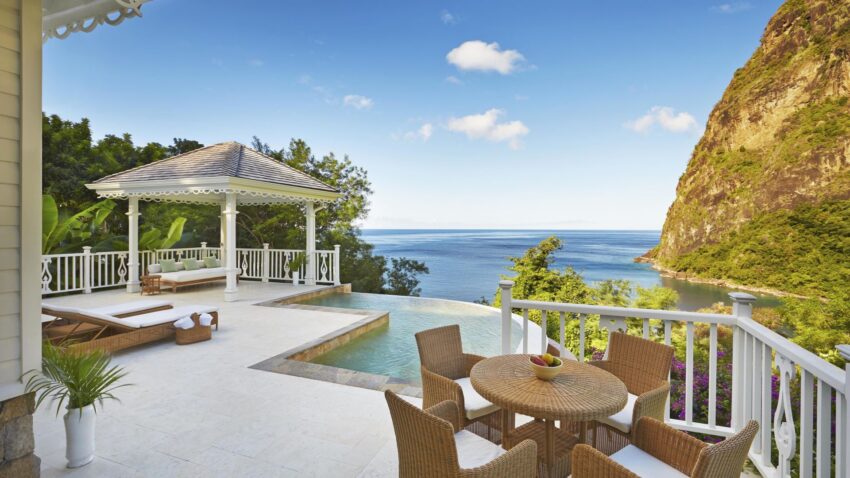 It is safe to say that Sugar Beach St. Lucia Resort is one of the most luxurious and sophisticated resorts on the island. This is a hotel that famous actor Matt Damon rented out the whole property to celebrate the renewal of his wedding vows, so you know there is a lot of charm and beauty revolving around this place.
2. Location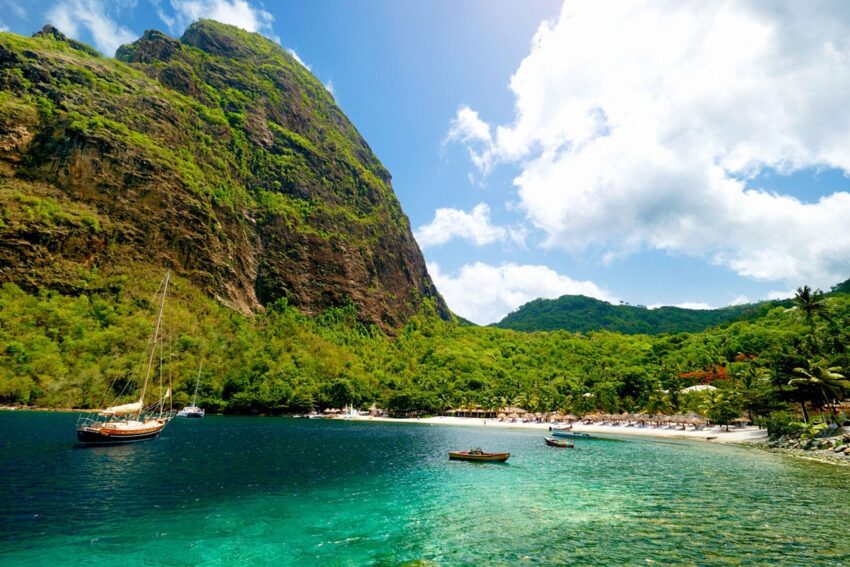 As far as the location goes, it does not get better than this on the whole island. The estate rests on over 100 acres of land, and its proximity to the airport is definitely one of its biggest selling points. The beach on the estate is very quiet and provides extra privacy for escapists.
3. Service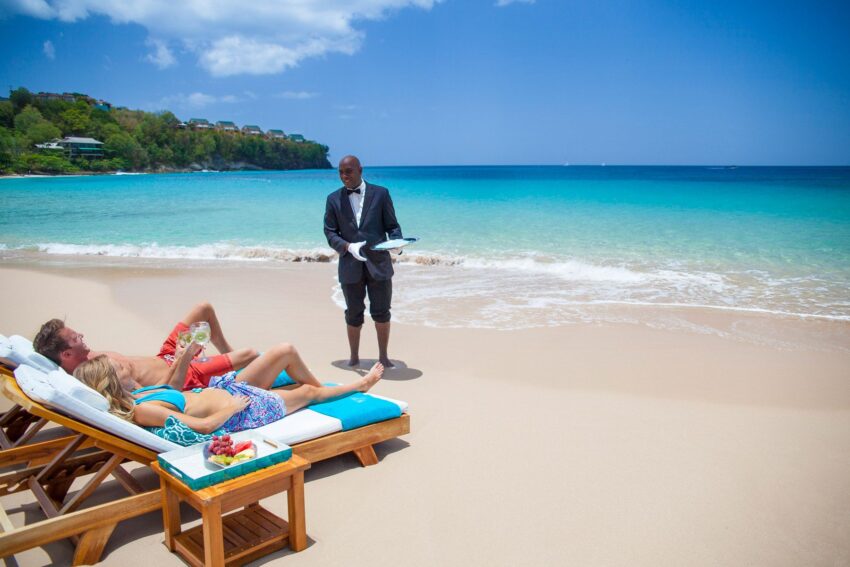 When it comes to service, this one is absolutely impeccable, and then some. When staying within premises, you will get a team of butlers to see that every need you might have is taken care of. You will also get a mobile device to contact butlers whenever the need arises.
You will have plenty of activity options to go for when staying at this resort, as there is a swimming pool, spa with treehouse treatment rooms, and plenty of opportunities for water sports such as snorkeling or diving.
4. Rooms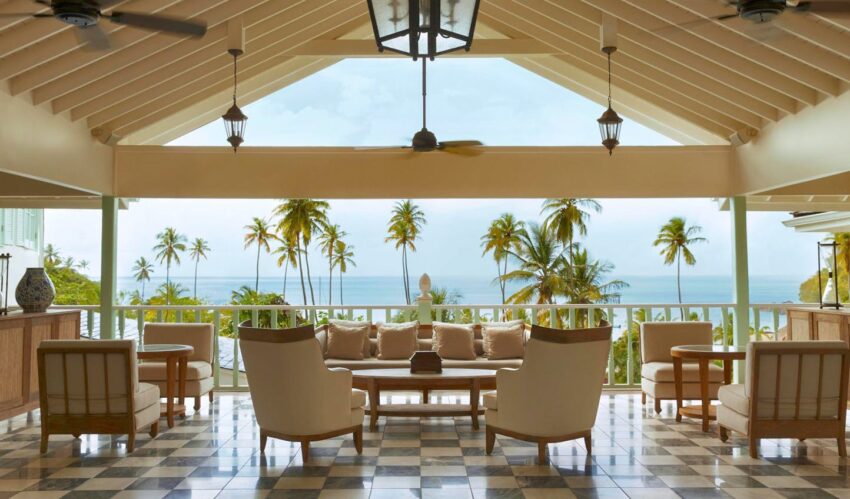 Rooms are one of the main selling points for this fantastic establishment as they are comfortable, elegant, and stylish. You can choose from 96 bedrooms, cottages, and villas. Most of these rooms have white-on interiors, private plunge pools, iPads, wet bars, espresso machines, and fridges filled with drinks and snacks.
The fact that even the cheapest accommodation, The Sugar Mill Rooms, is absolutely gorgeous, clean, and elegant speaks volumes about how good this resort actually is. These rooms also possess signature white-on interiors alongside Victorian-style bathrooms, plunge pools, and of course, large gardens.
Luxury Beachfront Bungalows are the rooms to go for if you want to enjoy with the utmost comfort and style. They are located directly behind the main beach, and they offer a plunge pool, loungers, hammock, and an outdoor shower in a private courtyard.
Needless to say, you should be expecting some fantastic views from your rooms, especially the more luxurious ones. In case the money is not an issue for you, we recommend you consider Beachfront Collection four-bedroom homes.
5. Family-Friendliness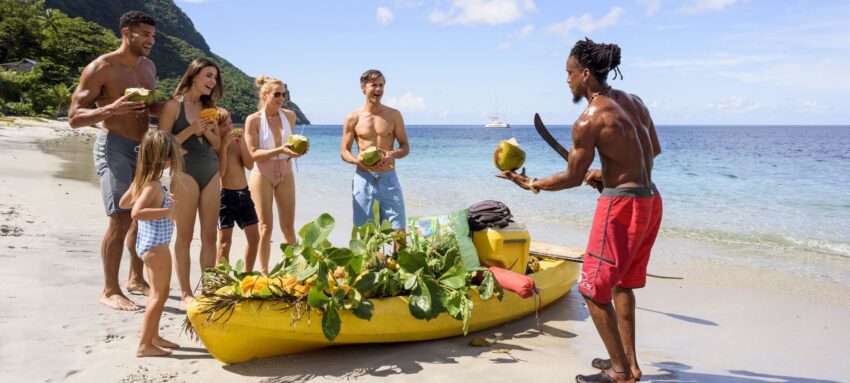 The villas within this resort are superb for families, but it is important to mention that they are also quite expensive. Again, if money is not an obstacle, you will be able to enjoy some of the finest accommodations for the whole family.
Children that are between four and twelve years of age will be able to enjoy supervised activities that take place in the children's club room and on the estate, depending on the program. There is also plenty of sporty activities for kids of all ages, whether it is a water sport, football, badminton, tennis, or something else entirely.
Excursions and Activities You Can Partake In
When you finally unpack and get ready to get out and engage in some entertaining activities, you will be happy to know that there is plenty to do here other than just sit back and relax. For starters, you should not miss the boat excursion the resort will be able to hook you up with.
There are also floaties on board JIC, and you are provided with the option to partake in snorkeling as a part of this trip. If you are not a good swimmer or a diver, you can skip this option as it is entirely optional. The boat ride is an absolute delight, and you will get a chance to enjoy the fantastic views the island has to offer. The water around is crystal-clear, and the seaweed you can see through it looks like it fell right out of some fairytale.
1. Mud Bath and Volcano Tour
The interesting fact that you maybe did not know is that St. Lucia houses the only drive-in volcano you can find in the Caribbean. Although it has been over two centuries since this volcano actually erupted, you will still be able to safely enjoy the sights and observe La Soufriere in its full glory.
The tour will actually allow you to reach the very top of the volcano, and this is where you will be able to enjoy the steaming-hot mud baths that locals and countless tourists absolutely love. These baths are famous for their detoxifying effect and can serve as a dose of refreshment for your skin.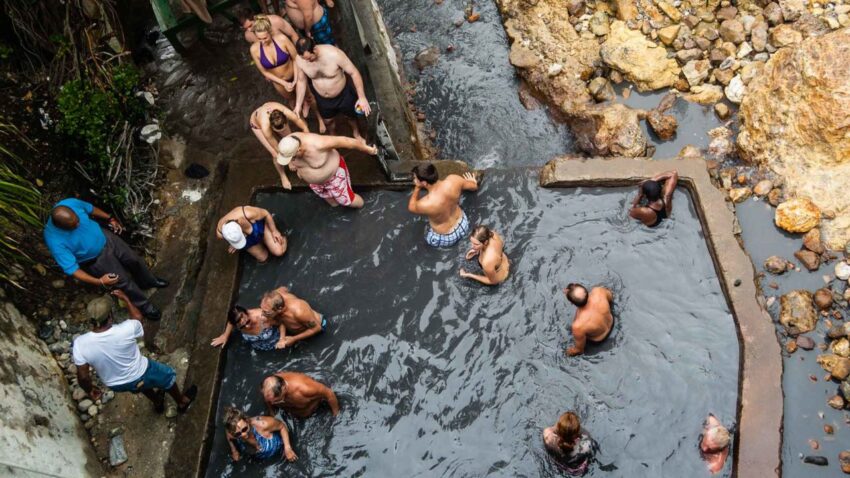 If you do not believe that to be true, you will surely enjoy the levels of comfort it provides. We strongly recommend you bring some dark-colored bathing suits for this adventure, as the mud stains on lighter colors might not be so easy to get rid of.
2. Botanical Garden
This is another charming place that you absolutely should not miss when visiting this beautiful island. This is a place where you can easily connect to some high-budget scenes from a movie. It is a very peaceful and pretty location, and you will want to spend hours surrounded by these natural beauties.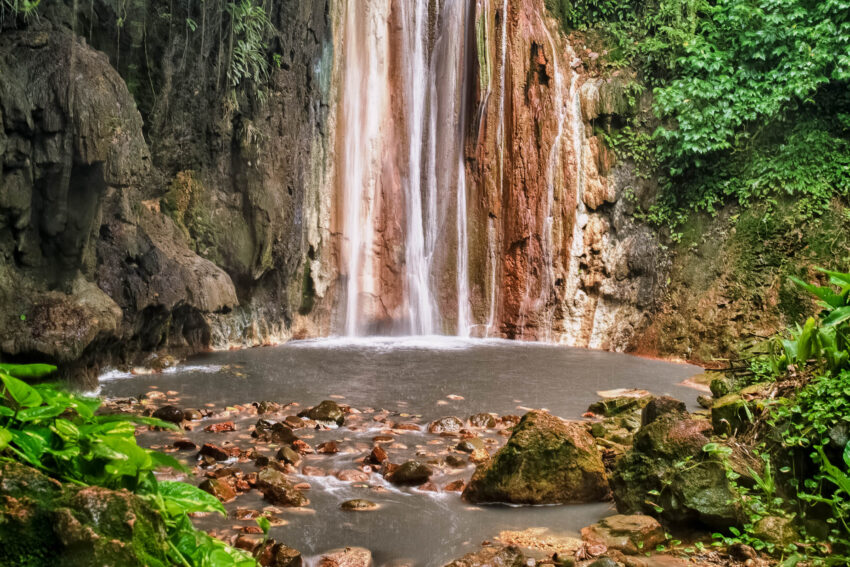 There is plenty of tropical plants and birds to observe, and the overall vibe of the place seems out of this world. You will connect with this amazing place shortly after you arrive, and if you are an outdoor enthusiast, you will certainly keep this place in your memory for a very long time after you leave.
3. Rum and Chocolate Tasting
St. Lucia is famous for chocolate manufacturing as it is jam-packed with cacao trees. When you take a rest near the resort pool, the Sugar Beach hotel will provide you with some fresh samples of delicious homemade chocolate.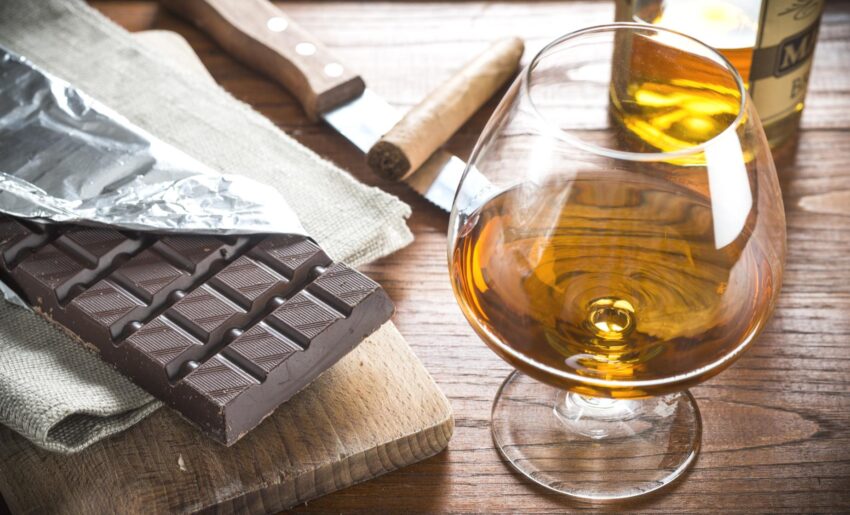 As far as rum goes, it is among the must-try artisan goods, as you surely cannot say you visited the Caribbean if you did not taste some of the finest rums out there. You can taste St. Lucian Rum right on the premises of the resort, and if you are enthusiastic about this drink, you will definitely enjoy this expertly crafted spirit.
4. Hanging Out by the Pool or Beach
It goes without saying, but relaxing by the pool or beach is an absolute must when visiting St. Lucia, and luckily, there are so many ways you can unwind in this place. We recommend you head to the beach every chance you get, but if that is not your thing, you can always dip in the resort's beautiful swimming pool.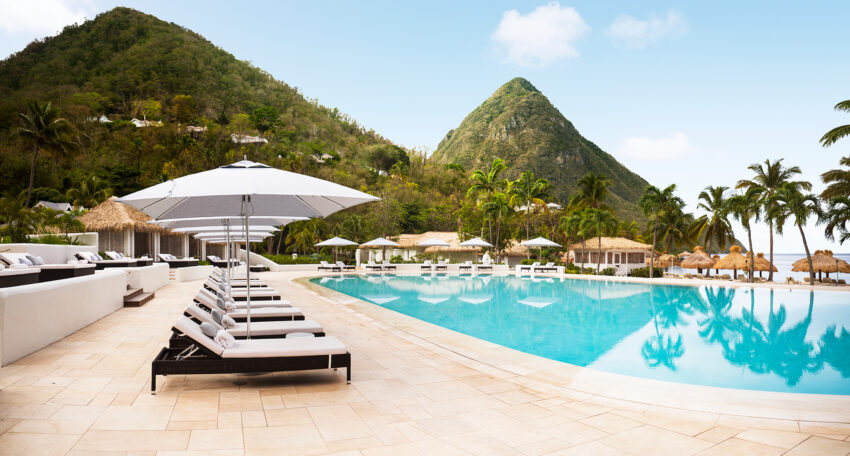 If you are the type of tourist that likes to stay in shape while on vacation, worry not because there is also a yoga studio and cardio equipment room where you can exercise and let some steam off.
5. Take a Rejuvenating Session at the Rainforest Spa
Countless tourists praise Sugar Beach St. Lucia for the spa treatments they got within the resort's premises. This is a relaxing session you can enjoy in a rainforest treehouse, as it is one of the best places to unwind. It might seem a bit unconventional, but trust us; it is absolutely worth it.
We also recommend you arrive a bit earlier before the booked session, as you will get a chance to enjoy this spa's facilities which are absolutely breathtaking. There are multiple signature treatments you can go for, so make sure to do your research before engaging in this activity to get the best possible experience.
6. Wine and Dine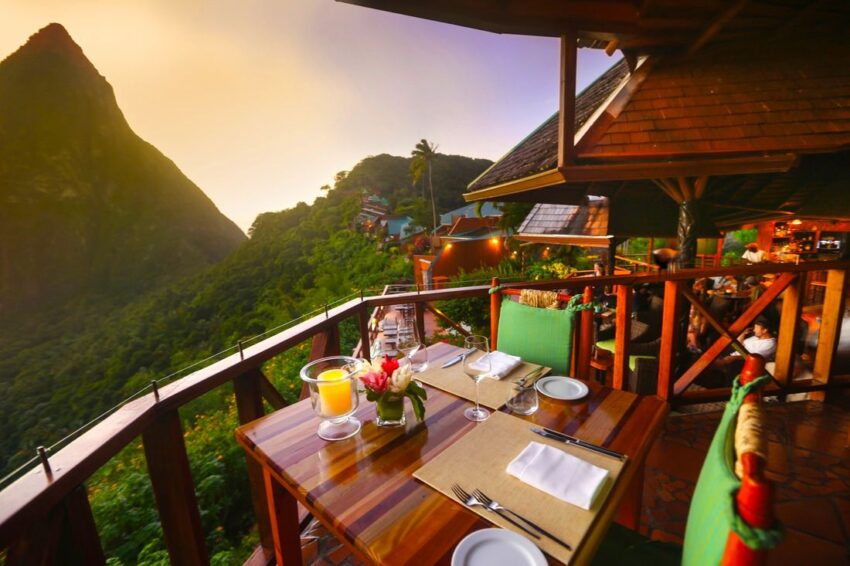 Aside from being famous for rum, chocolate, and stunning natural beauties, Caribbean islands also have a serious reputation regarding cuisine. Here are some of the finest places to grab a meal and sip wine at.
Jalousie Grill
This fine establishment offers Pina Coladas to die for. You will absolutely get lost in the fruity taste these drinks provide, and dish-wise, we recommend you go for the jerk chicken sandwich, which is one of the tastiest you will ever try. This place also offers a wide array of amazing appetizers, so make sure to study the menu carefully before making a decision.
Bonte
Bonte is a perfect place for wine enthusiasts that love to enjoy delicious meals while sipping wine. This restaurant is within the resort, and its beachside location largely contributes to the overall atmosphere and the levels of relaxation you will experience.
The scenery is amazing, but the food is also on a very high level. Their lobster is likely one of the tastiest entries on the menu and is certainly praised by countless tourists who visit this fine restaurant.
Cane Bar Terrace
This restaurant is one of the best places for fans of Asian fusion. Cosmo and sushi in this place are so authentic and tasty that you will be coming back for more again and again. There is a wide variety of Asian-inspired dishes on the menu, so revisiting Cane Bar Terrace is an absolute must on your to-do list while on the island.
Saltwood
Saltwood is a place where you can taste some of the finest gourmet specialties on the island. It is a fancy place that requires you to have a bit deeper pockets, but the dishes served here are absolutely worth every penny.
When visiting, make sure to try this restaurant's tasty scallops or the fantastic steak they are serving. For dessert, we recommend you go for s'mores-like desserts. The atmosphere is very cozy, and the staff is very helpful and friendly.
Final Words
The luxurious Sugar Beach St. Lucia resort is a true stunner and a place where you can enjoy the finest Caribbean activities. It has arguably the best location on the island due to its proximity to the airport and various entertainment options you can participate in.
It is a resort suited for people of all ages and is great for both couples and singles alike. There are also plenty of family-friendly accommodations, and if money is not an issue, you will be able to simply sit back, relax, and enjoy every single attraction St. Lucia island has in store for you.
Although this is one of the finest resorts on the island, you can also find plenty of great hotels and accommodations that might be better suited to your needs or budget limitations. We update our content daily, so feel free to revisit our website and stay in the loop about St. Lucia island and everything related to it.