Welcome to the land of stunning natural beauty and outdoor wonders: Arkansas! If you're a nature enthusiast or an adventure seeker, you're in for a treat. Arkansas, also known as "The Natural State," offers a diverse range of camping spots that will ignite your sense of exploration and leave you with unforgettable memories.
From majestic mountains to cascading waterfalls and serene lakeshores, this state is a playground for outdoor enthusiasts. Today, we'll dive into the best camping spots you can find in this state, revealing hidden gems and must-visit destinations.
So, get ready to pack your camping gear, embrace the spirit of adventure, and embark on a journey through the untamed wilderness of Arkansas!
A Guide to the Top 5 Best Camping Spots in Arkansas
Are you ready to discover the best of the best when it comes to camping in Arkansas? Look no further! In the guide below, we take you on a thrilling journey through the top five camping spots in the state:
1. Petit Jean State Park
Our first stop takes us to the enchanting Petit Jean State Park. Nestled atop Petit Jean Mountain, this park boasts awe-inspiring panoramic views that will leave you breathless. The campground offers a range of options, including tent and RV sites, as well as cozy cabins.
Explore the Cedar Falls Trail, a magical hike that leads you to a cascading waterfall plunging into a crystal-clear pool. Don't forget to visit the Rock House Cave, where ancient pictographs tell stories of the past. Petit Jean State Park is a canvas painted by nature itself.
2. Buffalo National River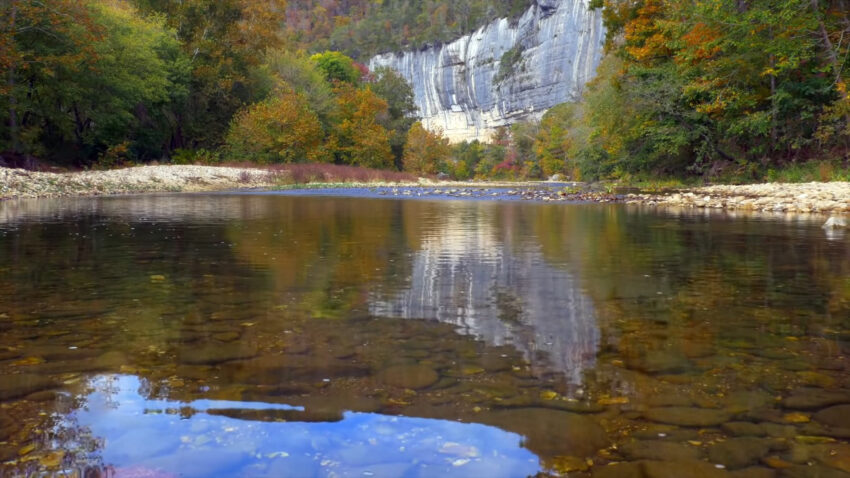 For an unforgettable riverfront camping experience, head to the Buffalo National River. As the first designated national river in the United States, it flows freely through towering limestone bluffs, creating a stunning backdrop for your outdoor adventures. Set up camp along the riverbanks, where you can fish, kayak, and swim in the refreshing waters.
Venture along the Lost Valley Trail to discover hidden wonders, including the mesmerizing Hemmed-in-Hollow Falls, cascading from a 200-foot cliff. The Ponca Elk Education Center is also worth a visit, offering an opportunity to spot majestic elk in their natural habitat.
3. Devil's Den State Park
Prepare to be spellbound by the rugged beauty of Devil's Den State Park. Nestled in the heart of the Ozark Mountains, this park is a haven for outdoor enthusiasts. Choose from a range of camping options, including tent sites, RV hookups, and cozy cabins.
Lace up your hiking boots and embark on the Yellow Rock Trail, leading you to an awe-inspiring lookout point with sweeping vistas of the surrounding valleys. For an intriguing adventure, explore the depths of Devil's Den Cave, adorned with captivating rock formations. Devil's Den State Park is where untamed beauty meets outdoor exploration.
4. Mount Magazine State Park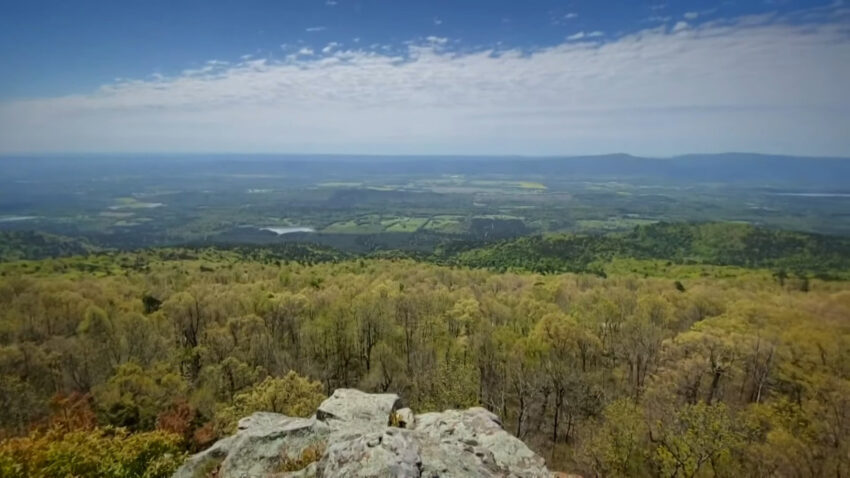 If you seek breathtaking heights, Mount Magazine State Park is your destination. Home to the highest point in Arkansas, this park offers camping options that will leave you in awe. Wake up to sweeping views of the lush forests below from your tent or RV.
Hike along the Signal Hill Trail to reach the Signal Hill Overlook, where the symphony of colors during sunset will leave you speechless. For a touch of luxury amidst nature, book a stay at the park's Lodge, which provides all the comforts while immersing you in the grandeur of the great outdoors. Mount Magazine State Park is where dreams touch the sky.
5. Lake Ouachita State Park
Calling all water enthusiasts! Lake Ouachita State Park is a camper's paradise, with its expansive crystal-clear waters and over 200 islands waiting to be explored. Set up camp near the shoreline and dive into the refreshing depths for a swim. Rent a kayak or paddleboard and navigate through hidden coves and secluded beaches.
Anglers will find bliss in the abundance of bass, catfish, and crappie inhabiting the lake's depths. When you're ready for a break, venture to the nearby Hot Springs National Park or the Ouachita National Forest for a taste of Arkansas's natural wonders beyond the water.
Overview of the Best Camping Spots in Arkansas
Get a quick overview of the highlights and unique features of the best camping spots in Arkansas with this comprehensive table:
| Camping Spot | Best Time to Visit | Amenities | Nearby Attractions |
| --- | --- | --- | --- |
| Petit Jean State Park | Spring and Fall | Camp store, showers, picnic areas | Rock House Cave, Museum of Automobiles |
| Buffalo National River | Spring and Summer | Primitive camping, restrooms, boat rentals | Hemmed-in-Hollow Falls, Ponca Elk Education Center |
| Devil's Den State Park | Year-round | A visitor center, cabins, swimming pool | Fossil Flats Trail, Shores Lake |
| Mount Magazine State Park | Spring and Fall | Lodge, restaurant, hang gliding | Cove Lake, Blue Mountain Lake |
| Lake Ouachita State Park | Summer | Marina, boat rentals, fishing pier | Hot Springs National Park, Ouachita National Forest |
Conclusion
Arkansas, the land of inspiring landscapes and endless adventures, offers a myriad of incredible camping spots. From the majestic views of Petit Jean State Park to the tranquil waters of Lake Ouachita, each camping destination unveils a unique facet of the state's natural wonders.
Embrace the spirit of adventure and immerse yourself in the beauty that Arkansas has to offer. Explore the hidden trails, discover captivating waterfalls, and create memories that will last a lifetime.
Whether you're a seasoned camper or new to the world of outdoor exploration, Arkansas's best camping spots will satisfy your wanderlust and leave you craving for more. So grab your gear, venture into the wild, and let the breathtaking landscapes of Arkansas become the backdrop for your unforgettable camping experience!